Take Life on in the Toyota Corolla
There are many reasons to consider buying a new Toyota Corolla. On top of being modernly efficient and fun to drive, this vehicle is full of the latest tech and safety features. Here at Thousand Oaks Toyota, we have robust inventory, allowing Thousand Oaks drivers to experience what the different versions of the Corolla have to offer.
Safety
Drivers in Agoura Hills will get several of the most popular and useful driver aids on their new Corolla, no matter which trim they select. Standard across the board are things such as a traffic sign reader, lane keeping assist, and forward collision warning with automatic emergency braking. Calabasas drivers can also opt for driver assistance features like adaptive cruise control and automatic high beams, helping to make life even easier.
Both blind-spot monitoring and adaptive headlights are available as well, depending on the trim you pick out. The adaptive front-lighting system, in particular, can be very useful. With this equipped, the headlights of your Corolla will follow the front wheels, helping to illuminate things around curves and corners. This gives you more time to react to potential hazards.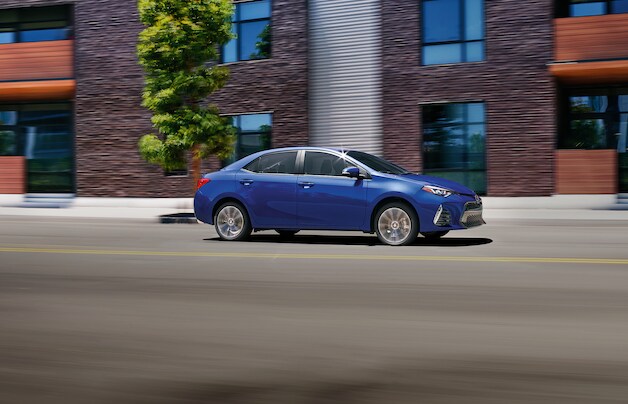 Tech
Simi Valley area drivers will find that all versions of the Toyota Corolla have the tech you need to stay entertained and connected. Not only can you connect your vehicle with your smartphone with the standard Bluetooth, but you can also use the included Android Auto and Apple CarPlay features. There is a six-speaker sound system standard for listening to tunes while cruising around the Camarillo area. You get either a 7-inch or an 8-inch touchscreen for controlling your technology, depending on which trim level you pick out.
Available on select trims is also a nine-speaker sound system, wireless charging, and a navigation system. Simi Valley can also opt for an HD and satellite radio capability. Going with the XLE trim level means getting a convenient and attractive 7-inch digital driver display as well.
Performance
Although all Toyota Corollas are fun to drive, they do not all have the same engine underneath the hood. Going with the L, LE, or XLE trim will mean getting a 1.8L four-cylinder engine that will give you 139-horsepower with 126 pounds-feet of torque. Working with this fun and efficient engine is a continuously variable transmission.
The SE and XLE trim levels are powered by a 2.0L four-cylinder that generates 169-horsepower with 151 pounds-feet of torque. A continuously variable transmission is once again standard, but these models come with paddle shifters. If you select the SE trim, you also have the option of selecting a six-speed manual transmission.
All versions of the Toyota Corolla come with front-wheel-drive. Wheel sizes range from the 15-inches you will find underneath the entry-level L trim to the 18-inch ones found on upper trims. There are several stylish wheel designs to consider, including ones made with eye-catching alloy.
Trim Levels
With five different trim levels, it can be hard to pick just one version of the Toyota Corolla. For many drivers, the L model checks all of their boxes for an ideal vehicle. It comes with LED headlights, a rearview camera, and a long list of driver aids. Deciding to go with the LE instead will mean adding automatic climate control as well as keyless entry.
Opting for the SE gives Oxnard drivers sport front seats, a leather-wrapped steering wheel, and several unique styling touches. The XLE will further add heat to those sport seats, plus a moonroof and power-adjustment for the driver's seat. Beyond this, Thousand Oaks drivers can also go with the XSE, which adds a more powerful powertrain.
The Future is Bright for the 2021 Toyota Corolla
For buyers who are familiar with previous Toyota Corolla model years, they may remember its undeniable durability and unmistakable reliability. Known as a vehicle that keeps going long after it is expected to, the Corolla served as a trusted auto in Thousand Oaks for many years. It is no wonder that fans are excited about the redesign and introduction of the newest version of the Toyota Corolla. Back with the same fierce determination that it is known for, the 2021 Toyota Corolla also returned with new design elements, modern technology enhancements, and innovative safety features. Affordable, dependable, and fuel efficiency, the 2021 Toyota Corolla would make an exemplary vehicle for a variety of consumers.
What's New for 2021?
The 2021 Toyota Corolla just became more exclusive than ever. What was once viewed as an economical vehicle has moved into high-class territory in many ways. The year 2021 will see a limited Special Edition production of the Corollas hatchback lineup in which only 1,500 copies will be produced. These exclusive models will feature Supersonic Red paint and a unique body kit making them a highly desirable collectible.
As far as changes that will be present in every Corolla model, an airbag upgrade will be included. Now featuring ten total airbags, the Corolla will add in rear-mounted airbags. In addition, a new option that comes at no extra cost adds a whopping six extra feet of cargo space after the removal of a spare tire. Summer tires, a manual transmission, fine-tuned chassis, and charismatic appearance are also changing that are expected for 2021. Producing just 120 stick-shift models, those who can get their hands on these special edition sedans in Thousand Oaks will be lucky. Otherwise, you will have to settle for a standard CVT.
A Hybrid Experience
In addition to two pre-existing four-cylinder gasoline engines, the 2021 Toyota Corolla will also feature a capable hybrid model. While non-hybrid models can already attain up to 40 MPG fuel efficiency, the hybrid Corolla adds three additional miles per gallon onto this already impeccable fuel economy. Over a 200 mile stretch, the Toyota Corolla managed to top out with a fuel efficiency of 56 MPG when traveling at a speed of 75 MPH. With this kind of fuel efficiency, the 2021 Toyota Corolla ranks up there with the best we have ever seen around Oxnard.